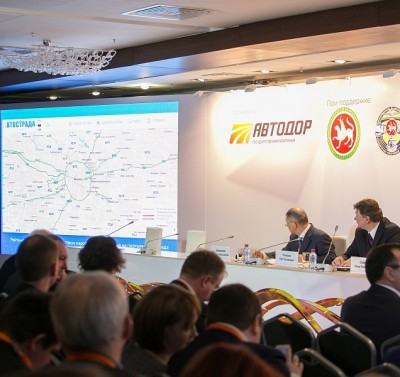 The company "PGM-Hard Urbanlandscapes" took part in the international conference "Safe Road. Design, construction, operation, and maintenance", organized by the State Company "AVTODOR" and LLC "Avtodor – Torgovaya Ploshhadka"on March 17, 2016 in Kazan.
As safety on the roads remains an important issue, the conference was attended by a large number of representatives of automotive industry, as well as public authorities, including the Prime Minister of Tatarstan Republic Aleksey Pesoshin, Minister of Transport and Public Road System of Tatarstan Republic Lenar Safin, Chairman of the board of the State Company "AVTODOR" Sergei Kelbakh, Head of the supervision department GUOBDD of Russian Interior Ministry Oleg Ponarin, Head of the State Traffic Safety Inspectorate of Internal Affairs of Tatarstan Republic Rifkat Minnikhanov, first deputy chairman of the Commission on security and cooperation with Public Monitoring Commission of the public Chamber Dmitry Chugunov, and many others.
The event was opened by the Chairman of the board of the State Company "AVTODOR" Sergei Kelbakh who informed the participants that the total number of traffic accidents within the toll road section, held in trust under "AVTODOR", reduced by 23%. Particularly he stressed an importance to pay attention to quality of the roads, their maintenance, and to the principles of design and implementation of intelligent transport systems and search for optimal solutions in cooperation with the State Traffic Safety Inspectorate of Russia.
During the two-day conference, the participants discussed the introduction of security audit of the roads, improvement of traffic management, the role of cooperative intelligent transport systems and creation of infrastructure for roadside service.