LLC "PGM – Urban Hardlandscapes" specialize in manufacturing fiber reinforced polymer (FRP) composite structural products by pultrusion and SMC methods. Below is a brief description of the pultrusion process and characteristic properties of pultruded profiles to be taken into consideration in structure fabrication.
About Pultrusion
Pultrusion is a method of production of FRP composite profiles with a high concentration of glass fiber (we use 65% of the whole composition) impregnated with a polymeric binder. This technology is based on producing continuous lengths of fiberglass reinforced structural shape by pulling it through a die system.
The unique feature of pultruded profile is the continuity of the reinforcing fiber in its structure. Therefore, drilling such profile destroys binder fibers and reduces its load-bearing capacity.
Manufacturing process
Stages of manufacturing FRP composite profiles by pultrusion method:
Strengthening continuous glass fibers by polymer binder. Fiberglass threads (in the form of mat and roving) are used to insure stiffness through the full length of composite profile. Before reaching the curing die, glass fibers are pulled through liquid resins containing fillers, catalyst, additives (e.g., UV protection) and saturated pigment. Binder polymers provide for multidirectional reinforcement of the profile structure.
Polymerization process. At this stage by means of pulling system impregnated glass fibers reach a preheated curing die and acquire a certain shape.
Cutting the finished product. After the cured profile is pulled further through, it is cut with a cut-off saw at a desired length.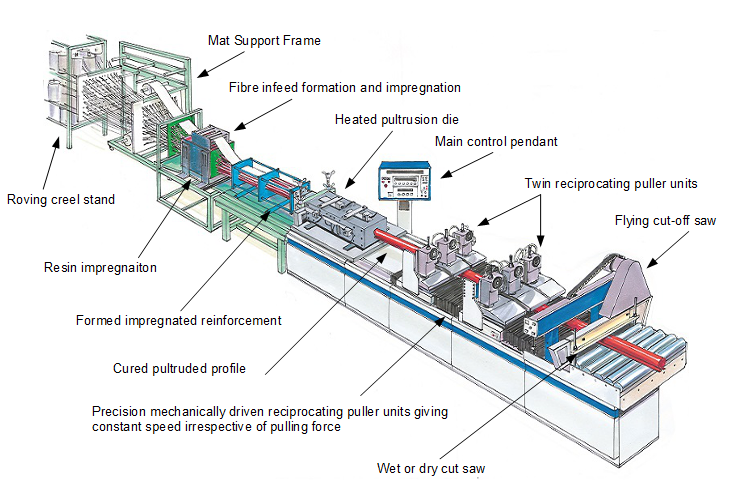 Why Pultrusion method?
Pultrusion process requires little labor effort and is ideal for mass production of composite profile. Full automation of the production process reduces error probability while its continuity makes this process eco-friendly and cost-effective.
Pultruded composite profiles possess unsurpassed resistance to chemical corrosion and do not produce any negative effects on the environment. Find out more about the advantages of composite materials.
The proportion of components that make up the composite profile can be adjusted in accordance with desired physical and chemical properties such as combustibility, density, water absorption, etc. Formulas are derived specifically for a purpose of an end product.
The quality of "PGM – Urban Hardlandscapes" products has been given a continuous development for already over 8 years. The company invests in improving a number of key performance indicators and design optimization based on innovative technical solutions. Our accumulated knowledge and experience help us to produce products that meets the highest quality standards in our market segment.