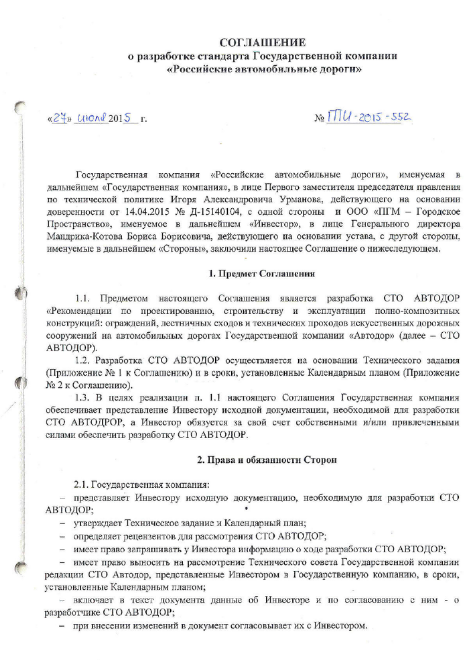 07.27.2015 "PGM – Urban Hardlandscapes" Co., Ltd signed an Agreement on development of the standard for the State Company "Russian Highways".
The subject of the Agreement is the development of STO AVTODOR "Recommendation for the design, construction and operation of all-composite structures: fences, stairs and technical passages of artificial road constructions along the roads of the State Company" Avtodor".
Development STO AVTODOR carried out based on technical design specifications and within a set deadline.
Agreement on developing STO AVTODOR (In Russian)
Technical design specifications and the schedule (In Russian)
Other news
21.11.2016
PGM Urban Hardlandscapes Ltd was proud and honored to participate in historical and patriotic rally Roads of winners Connecting generations devoted to the role of military road workers and motorists in the period of the Great Patriotic War Rally was [...]
21.11.2016
The conference Nature of cooperation of the State Company Russian Highways with SMEs organized by the State Company Russian Highways AVTODOR was held in Moscow on March 1 2016 at Moscow Marriott Royal Aurora hotel The event aimed [...]
14.07.2016
11-14 July Ekaterinburg city hosted a major international industrial exhibition "INNOPROM-2016" at the main expo complex "Ekaterinburg-Expo" for the seventh time. LLC PGM Urban Hardlandscapes became a part of the official delegation from the government of the Kaliningrad Region headed by the deputy chairman of the government Mr Anton Alikhanov which mission was to presented the industry of the Kaliningrad region [...]