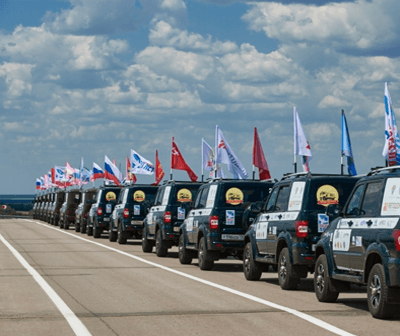 «PGM – Urban Hardlandscapes» Ltd was proud and honored to participate in historical and patriotic rally "Roads of winners. Connecting generations", devoted to the role of military road workers and motorists in the period of the Great Patriotic War. Rally was completed on June 22 in the city of Brest. During ten days of the rally participants covered over 3000 km and visited eight regions in Russia and four regions in Belarus Republic. Summing up the results of the rally, all participants agreed that the brightest impression of whole experience was a very warm welcoming by local residents of villages and towns in stopping-places.
June 21- the last day of the rally – started in Minsk near the stela "Minsk – Hero-City". The final city visited by the column of the rally "Roads of winners. Connecting generations" was Brest. There, in the presence of war veterans, representatives of regional and city administrations, youth movements and locals, took place the official ceremony of the rally ending. Igor Levitin, assistant of the president of Russian Federation read a welcome speech of Sergei Ivanov, the head of the Presidential Administration of Russian Federation. The ceremony was also attended by the Minister of Transport Maxim Sokolov and the Chairman of the Board and the State Company "Avtodor" Sergei Kelbakh. The ceremony ended with a festive concert, which by tradition has gathered tens of thousands of local residents.
The last event of the rally took place on 22 June at 4 AM. It was a meeting-requiem held in "Brest Fortress", which was attended by Kirill, the Patriarch of Moscow and All Russia. After that rally participants witnessed a historical reconstruction devoted to the events of the first days of the war and the defense of the Brest Fortress.